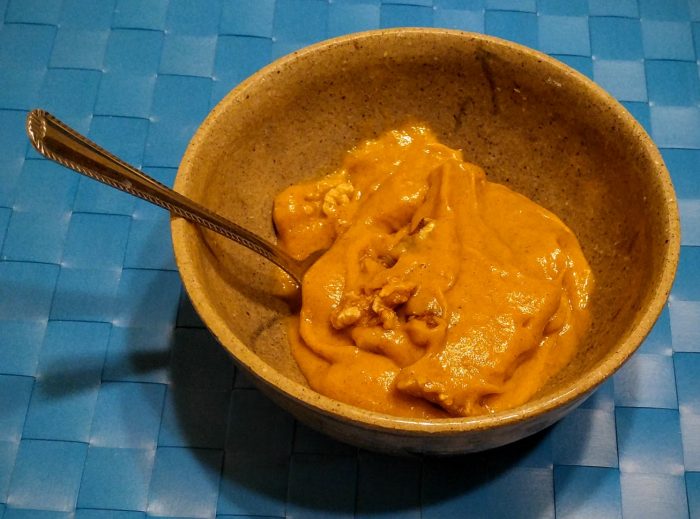 Pumpkin Ice Cream has always been a favorite of mine. Every fall I look forward to it! However, dairy does not always settle well with my son, so I thought I would try to come up with something dairy-free.
*This post contains affiliate links, which means I may receive a small commission, at no cost to you, if you make a purchase through a link! Misfit Mama Bear Haven is a participant in the Amazon Services LLC Associates Program, an affiliate advertising program designed to provide a means for sites to earn advertising fees by advertising and linking to amazon.com.*
After a bit of experimenting, I came up with this. It is actually not that expensive either, considering I get my maple syrup at Aldi! I hope you enjoy this maple pumpkin ice cream recipe and please let me know what you think!
Maple Pumpkin Ice Cream
Ingredients:
4 under ripe bananas, chopped and frozen
1 15 oz can pumpkin
1 TBSP Pumpkin Spice
3/4 Cup Maple Syrup
The easiest way to do this is to freeze your bananas the night before you want to make it. You will want bananas with some green to their peel as they will not be as sweet. Sweeter bananas WILL overpower the pumpkin, so choose wisely.

Instructions:
Next you are going to want to blend the pumpkin and bananas using the method of your choice. I am still having problems finding certain equipment in my kitchen post-move, so I chose my blender. I did one banana at a time with a bit of pumpkin on liquify. Once the bananas and pumpkin are blended together, add the maple syrup and pumpkin spice. Blend for 30 seconds. Then pour into a freezer safe container.
We added walnuts to ours, but it is a personal preference. Freeze for at least an hour and serve. Serves 8.
Editor's Note:
Since first coming up with this recipe, I ended up with a dairy allergy diagnosis. This recipe has been a great one to keep handy because I really miss things like ice cream. Dairy ended up not being the only allergy I had. By the end of it, I can no longer have dairy, gluten, or soy. My doctor also has me staying away from refined sugars and yeast. It does help with the nasty migraines I have. So I am not complaining.
I hope you enjoy this  pumpkin ice cream recipe, and if you do, feel free to let me know in the comments below! Also, be sure to follow my pinterest for other fun recipes I find!