Poem craft for Mother's Day or Father's Day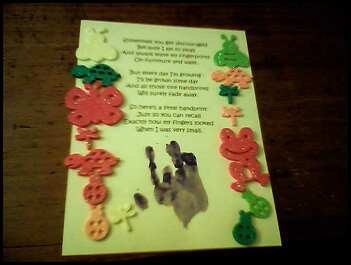 My kids love to make hand made presents for special occasions. This easy hand print poem craft makes a great present for Moms, Dads, and Grandparents. Plus, it can be adapted for any age!
*Misfit Mama Bear Haven is reader supported. This means that when you purchase through affiliate links on this site, I may receive a small commission, at no cost to you. Misfit Mama Bear Haven is a participant in the Amazon Services LLC Associates Program, an affiliate advertising program designed to provide a means for sites to earn advertising fees by advertising and linking to amazon.com.*
Supplies Needed:
Card stock (8×11 piece)
Markers, Stickers, Crayons, or something to decorate
Fingerpaint (or other washable paint)
Frame (optional)
Enclosed below is the poem I used for this project. I tried to research the origins of this poem online but never found the original author. If you don't want to use this poem, you could create your own, or if you are helping your child create this for someone else, encourage them to write a poem of their own.
For this project, use the 8×11 card stock. I find that construction paper is a bit flimsy for this project. Plus you want to be able to put it through your printer when you copy the poem.
Have your child dip his/her hand in paint and put a hand print on the page.  After the hand print dries, decorate it however your child wants. To add a special touch to it, add a frame, and you are ready to give this gift to a special parent or grand parent!
The Poem We Used
Author's Note
This craft was originally published in 2011! I love this craft because it is simple, and your child can customize it however they want. When I first did this project with Sissy, she was still quite little. She went through a foam sticker phase, where she put foam stickers all over everything!
When I look back at this, I remember not only this craft, but all the times I found foam stickers on my desk, on papers around the house, and even in my bathroom! While they sometimes ended up in places I would rather not find stickers, I laugh about it now because she thought she was decorating! Her sister is almost the age she was when we did this together, and I look forward to doing this project with Miss Crankles and possibly getting an updated one from Sissy this year.
I hope that you have fun making this craft with your little ones. If you do this and post it on social media, be sure to use hashtag #bearhavenkidlets so I can see your child's take on this craft!
As always, I look forward to hearing from you, and don't forget to subscribe and follow our adventures on social media!