Poem craft for Father's Day (or Mother's Day)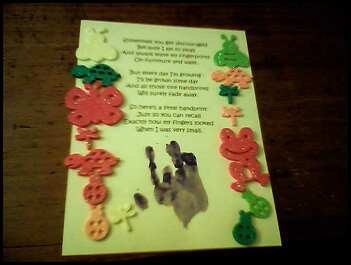 Actually this child's craft makes a great present for Moms, Dads, and Grandparents,
and it is so easy to do!


Supplies Needed:
Cardstock (8×11 piece)
Markers, Stickers, Crayons, or something to decorate
Fingerpaint (or other washable paint)
Frame (optional)
I am enclosing the poem below. I am not sure who wrote it. I tried to find out online but came up empty. Basically, you use cardstock (8 by 11 piece so you have enough room).  Have the child dip his/her hand in paint and put a hand print on the page. Let the child decorate it as he/she would like. You can even put it in a frame for the special recipient. Here is the poem:
Hope your child enjoys making this. My daughter had a lot of fun with this one!