Cheesy Green Bean Casserole, a new take on an old favorite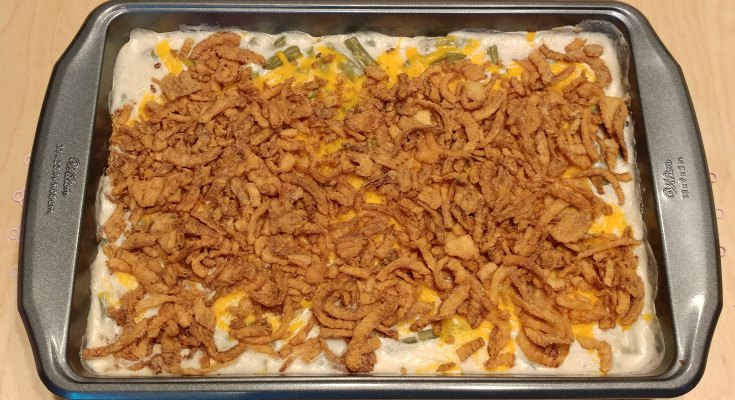 One of my favorite holiday dishes is my mother's green bean casserole. I have made a green bean casserole similar to hers for years now. However, this year, I decide to experiment with it a bit and came up with some delicious results. I hope you and your family will enjoy it too!
*This post contains affiliate links, which means I may receive a small commission, at no cost to you, if you make a purchase through a link! Misfit Mama Bear Haven is a participant in the Amazon Services LLC Associates Program, an affiliate advertising program designed to provide a means for sites to earn advertising fees by advertising and linking to amazon.com.*
Also, this recipe is pretty easy to make. Plus, it doesn't take a lot of time.
Ingredients
2 14.5 oz cans green beans
1 6.5 oz (4 oz drained) can of mushrooms (the stems and pieces kind)
A can mushroom soup
1 cup shredded cheese
1/2 cup of milk
2/3 cup French fried onions
Directions
First, preheat the oven to 350 degrees. While the oven is getting all toasty, combine your mushroom soup and milk. Drain your cans of green beans and mushrooms and pour them into a baking dish. Mix them up a bit with a spoon. Then you will pour the mushroom soup mixture over top the green beans and mushrooms.
Mix with a spoon. Salt and pepper to taste. Finally top with the cheese and then bake at 350 for 20 minutes. After 20 minutes, take out your casserole and add the French fried onions. Bake an additional 10 minutes. Serve warm.
What I love about this Green Bean Casserole
I know it might sound odd to add cheese to this holiday staple. However, my kids absolutely love it. We even have it with non-holiday meals. It pairs well with my meatloaf recipe too!
If you enjoy this recipe, be sure to pin it or share it with your friends! Also, be sure to check my Pinterest for other fun recipes I have done or found from others!
What is your favorite holiday recipe to make for holiday meals? I would love to hear about your ideas, so please feel free to share them in the comments below!