Savory Green Bean Casserole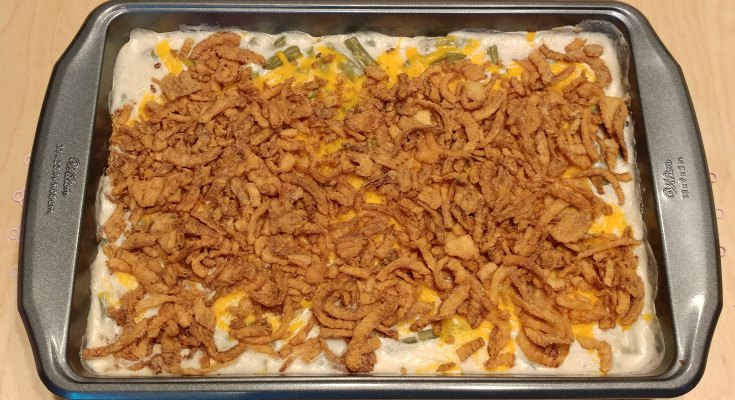 One of my favorite holiday dishes is my mother's green bean casserole. I have made a green bean casserole similar to hers for years now. However, this year, I decide to experiment with it a bit and came up with some delicious results. I hope you and your family will enjoy it too!

Ingredients
2 14.5 oz cans green beans
1 6.5 oz (4 oz drained) can of mushrooms (the stems and pieces kind)
1 can mushroom soup
1 cup shredded cheese
1/2 cup of milk
2/3 cup French fried onions
Directions
First, preheat the oven to 350 degrees. While the oven is getting all toasty, combine your mushroom soup and milk. Drain your cans of green beans and mushrooms and pour them into a baking dish. Mix them up a bit with a spoon. Then you will pour the mushroom soup mixture over top the green beans and mushrooms. Mix with a spoon. Salt and pepper to taste. Finally top with the cheese and then bake at 350 for 20 minutes. After 20 minutes, take out your casserole and add the French fried onions. Bake an additional 10 minutes. Serve warm.