STEM Activities, Full Year of Challenges with Close Reading with Tied 2 Teaching, A Review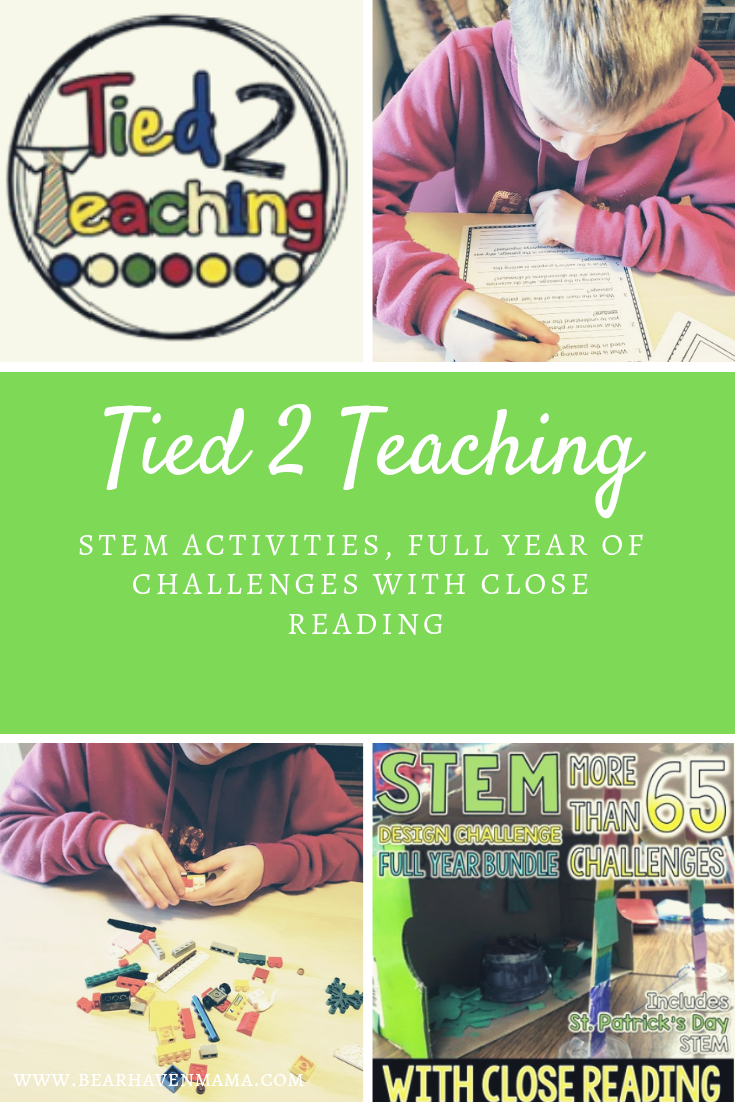 *This post contains affiliate links, which means I may receive a small commission, at no cost to you, if you make a purchase through a link! Misfit Mama Bear Haven is a participant in the Amazon Services LLC Associates Program, an affiliate advertising program designed to provide a means for sites to earn advertising fees by advertising and linking to amazon.com.*
Have you been looking for a fun way to include more STEM (science, technology, engineering, and mathematics) to your homeschool fun? If so, let me tell you about the STEM Activities, Full Year of Challenges with Close Reading from Tied 2 Teaching! Sissy and I recently got the opportunity to utilize this program in exchange for our honest review.
How does this work?
The STEM Activities, Full Year of Challenges with Close Reading bundle comes as a downloadable file and contains four challenges for each month, except for August. For the month of August, there is a bonus Mega Pack of Building Block Challenges. Each challenge includes a close reading passage, worksheets, and instructions for the challenge.
The weekly challenges even have some holiday specific ones, like the Valentine's Day Cupid's Bow Challenge and the Easter Design a Carrot Carriage Challenge! These challenges are not only designed to be educational, but they are designed to bring an element of fun to learning.
This program could be done with one child or a group, and while I am taking this from the approach of homeschooling, this program would be beneficial to any teacher looking for ways to add more STEM to the classroom. The program is geared towards children grades 3-6. However, my fifteen-year old son has been caught poking his head into see what Sissy and I have been doing. I am pretty sure he will be joining us from time to time.
What we did recently
Sissy and I went a bit out of turn to show some of the different lessons. This week, we did the Dinosaur Building Block Challenge which is actually a part of the bonus Mega Pack for August.
We started off by having Sissy read the passage. There is a QR code at the top of one of the worksheets that you can scan with your phone or tablet to go directly to that website. We looked at the challenge. Her challenge was to build a dinosaur out of the smallest blocks she could find. Also, it had to look like a dinosaur, and it had to be done in six minutes!
The dinosaur did not quite turn out how she hoped. I could tell she tried though. She said that making something like that in six minutes required a lot of thought, and she had fun trying to make it work.
What We Love about this program
I like that everything is completely organized. I can see what materials we need so that way I can grab anything we don't have while I am running errands. The challenges work for a variety of age groups, and they really make my child think. Sissy loves a good challenge, and she likes to use her hands. It is one of the things that makes STEM an important part of our homeschool curriculum for her. She is really looking forward to making the carrot carriage next month. Personally, I think that is because she knows that Peeps are involved!
Final Thoughts
I highly encourage you to check out STEM Activities, Full Year of Challenges with Close Reading from Tied 2 Teaching for your family. We love this as an addition to our homeschool life, and whether you homeschool or just want to do STEM activities with your kids at home, I think you will find this a worthwhile program. You can also find Tied 2 Teaching on Facebook, Instagram, and Pinterest!
If you want to read more reviews, please check out the other reviews from other Homeschool Review Crew Members!