The most easy skincare routine for moms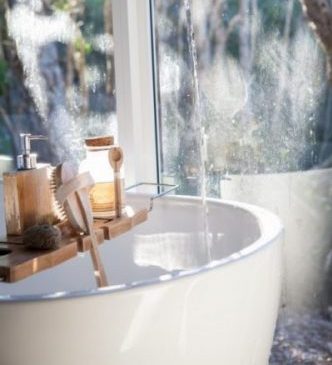 One thing I won't skimp on as a mom is my skincare routine. It might sound vain, but I do love looking good. However, a good, easy skincare routine for moms doesn't have to be complicated, so I want to share my easy skincare routine with all of you!
(This post may contain affiliate links or Amazon links, which means I may earn a small commission if you click the link then purchase a product or service from the third party website. Purchasing a product or service from a link does not increase your purchase price, but it is a great way to say 'thanks' if you enjoy my content and find my suggestions helpful.)
Why Skincare is Important
I know that proper skincare seems secondary sometimes, especially if you have small children at home. My youngest is five, and I still struggle to get five minutes in the bathroom alone. However, taking care of your skin prevents premature aging, and when you use sunscreen and a moisturizer with it, you get that added protection against the sun. This is super important to me in the summer. I barely get my sunscreen on the rest of me when I am trying to chase an exuberant Crankles!
Sometimes though, we let things like this fall by the wayside, especially when the kids are little. However, sometimes a bad day is made better for me just by taking care of my face.
My Super Easy Skincare Routine
My skincare routine comprises of only 3 products. One of these products is not even used every day. Trust me, this won't take more than a few minutes to do, and you will have fresh face!
Product One:
Neutrogena Rapid Wrinkle Repair Anti-Wrinkle Retinol Prep Facial Cream Cleanser
Actually, another Neutrogena Cleanser will do. I recently started using this one because turning 40 this year makes me think I will wrinkle soon. However, I still get mistaken as my son's older sister, so I am good with this.
I have been using Neutrogena forever, and they have cleansers for all types of skin and issues you may have, like acne. Basically, I just wash my face with this.
Product Two:
Neutrogena Healthy Skin Anti Wrinkle Retinol & Vitamin E Face & Neck Cream Moisturizer
I use moisturizer in the morning and at night. It takes less than a minute to do. Just don't forget to put moisturizer on your neck too! It keeps it youthful!
Product Three:
dr. brandt Microdermabrasion Skin Exfoliant
This product is newer to my skincare routine. It came in a beauty box earlier this year and fell in love! I keep this in the shower and use it about twice a week. Followed up with moisturizer, it makes my skin feel so smooth! It is a bit pricy, but it is completely worth it!
Making Self-Care a Priority
I know that this doesn't sound glamorous, but real self-care really isn't anyways. Taking those couple minutes to take care of your skin makes a difference when you are stressed out. I love all my kids immensely. However, as a homeschooling mom, I get stressed out a lot. Sometimes, washing my face is my pause for a moment on the stress.
And Now For a Giveaway!
Talking about the importance to get a breather now and then and be gentle to yourself reminded me that I have some spa goodies to give away. One lucky reader will receive a gift box from me with the following:
Mistral Verbena Body Soap
John Master's Organics Repair Hair Mask
St. Tropez Self Tan Mousse with application glove
2 Wander Beauty Baggage Claim Gold Eye Masks
a Dermal Olive Collagen Essence Mask
a Bodipure Handpure Hand Mask
Just follow the instructions on the Rafflecopter Giveaway entries and good luck!
I also linked up with some other great bloggers, so be sure to visit their blogs and enter their giveaways too!