Seven Tips For Finding a Vehicle for your Family (and Why It's Important)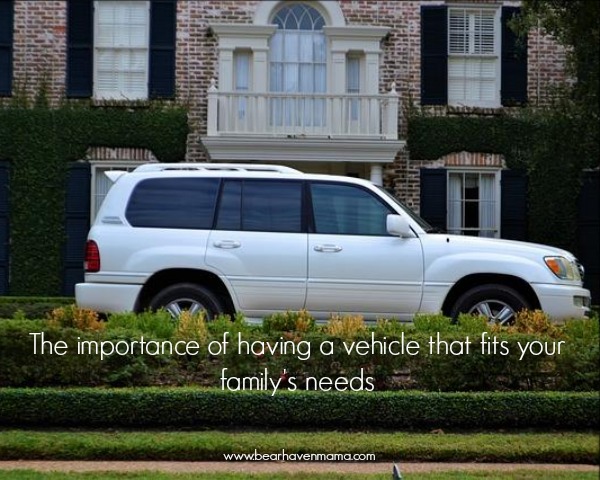 *This post contains sponsored content from cars.com
With each child I have had, there has been the planning and buying of things for the baby, for the nursery, for me toting everything I need for the baby. However, one of the big things I have forgotten to check with each child is whether my vehicle has enough space for the things I need to take with me for the baby. I know this may seem silly in a way…as in you are thinking, "Just how much crap does she really need to take with her?" However, depending on your lifestyle and travels, you might be surprised to find yourself in a bind if you overlook this when having kids. So I thought it might be a good time to share with all of you who are thinking of having another baby or have one on the way things you need to consider when deciding on a family vehicle.


So here is what happened when I had my oldest daughter. My husband and I purchased a hatchback Hyundai Elantra when Bubby was almost two-years old. We wanted something that had good gas mileage, as we traveled a lot to see our parents, and we wanted something that could fit the stroller and possibly our bunny too. For one child, it was perfect. We could even fit our bunny's cage in the back. She seemed to be a pretty happy traveler (okay, that could be because my husband's grandma gave her extra treats when we came to visit). I had room to put a velcro toy bin in the middle of the back seat so that Bubby had all his travel toys within arm's reach. When I got pregnant with Sissy, I did not foresee a problem because I used to babysit and had an extra car seat in the back half the time anyways. It was not until about a month before Sissy was born that I could see we might have some issues when I went to pick up my new double stroller. I got one that would fit her infant seat. I got one that was smaller. I got one because Bubby was almost three, and I knew I would be doing lots of playdates and walking and well… he was still kinda little for me not to have something for him. When we got the box out to the car, it would not fit. The nice guy from the store helped me unbox the stroller and put it together in hopes that all would be well when I put it in the trunk that way. It fit, but there was no room for anything else. The first time that we traveled as a family for a few days was a tight squeeze for us all. I knew then that long-term this was not going to work for my family. It took several months and a lot of research, but I ended up deciding on the Hyundai Tucson as a suitable replacement for our family vehicle.
The factors helping me choose were storage capacity, fuel efficiency, and price. By looking everything up before visiting a dealer, I knew how much the vehicle cost, what features were standard, and whether or not everything would fit. By the time Sissy was six months old, I walked into a dealership and traded my sweet little Elantra for something that would fit our family's needs, a Hyundai Tucson. I loved my Tucson, still do. It is my husband's work vehicle now. We used it for getting the kids from everything from playdates to dance class. We piled our family and exchange students and went on vacations in that vehicle. I could fit a chunk of my store in that thing to get to craft fairs and parties. It was perfect for us…until we decided to have another baby.
When I got pregnant with Crankles, my husband and I started to realize that long term, the vehicle was going to be too small for our growing family. My son is eleven years older than my youngest and is taller than me now. When we traveled with one of our exchange students, the kids were past the ages of big strollers and travel systems. While you can get slimmer car seats, the extra gear we would need for going shopping, field trips, and trips to grandparents would make us a bit cramped again. We did not really want to purchase a new vehicle, so we decided to swap vehicles. He was driving a Toyota Rav-4. It has great cargo space, and we knew it would be perfect for carrying the stroller, a pack and play, and whatever else we might need when we traveled. However, we learned after our first trip as a family of five, we probably should have driven around with the infant seat a bit before we put Crankles into one. The kids were cramped, and so were we. The Rav-4 was a newer vehicle, and so we decided to trade it in for something that would work for our expanding family.
The process of figuring that out again was so frustrating, which was why I was so grateful for tools like Cars.com. Being able to sit at my leisure and compare vehicles to find the one with the best storage space, size, mpg, etc… made it easier to decide what to buy. Once we decided on what we wanted, a Toyota Highlander (optional third row, roomy, and great for winter driving), we were even able to search on there where we could find the one we wanted for a good deal. Three years later, and I still love my Highlander. If we have another baby, I know we have room to make everyone fit. Basically, I will be driving the vehicle until it dies (which I am hoping is not for a really long time). I drove on icy roads last night taking Bubby home from dance, so I still have the confidence in knowing I picked right for bad weather. This was not a decision we made lightly, but this was a decision that has definitely been good for our family.
I know that buying a vehicle can be costly, and that is why I think it is important to consider your vehicle in family planning. We get really excited and sometimes overwhelmed by everything else when having a child that sometimes we overlook these kinds of things that do end up having an impact on our every day lives.
While I know that purchasing a vehicle is not feasible for everyone, if you are thinking of buying a vehicle and possibly thinking or will be having another child in the near future, you might want to think about the following:
7 Tips for Painless Vehicle Shopping
Do you have other children, and how squished will everyone be?
Did you measure your car seats and/or booster seats to make sure everything fits properly?
How often do you travel and where? If you travel a lot, you need to make sure your vehicle has enough storage space.
How much can you afford to spend on gas. Having a budget for gas in your monthly budget is important anyways, but it is also important to keep your budget in mind when searching for a vehicle.
How many miles does the vehicle have? If you are buying new, then it does not apply. However, you can get some great deals on used vehicles. If you do though, you need to think about how many miles are on it. You also need to have an idea about how many miles those makes and models typically get. Also, is it certified? Tools like Cars.com can help you find all that out too.
Do you think you might have more children or may be driving other children in your vehicle? I like my Highlander because I can use the third row and bring along extra friends of my kids if I want. If we decide to host more exchange students, I am already prepared in that aspect. Automobile purchases are costly, so choose wisely.
Will this vehicle work for the weather in your area? Before moving, we lived in the mountains in Eastern Pennsylvania. We needed something that could handle the harsh winter weather. While I tend to stay home in bad weather, sometimes it is unavoidable. Make sure that your vehicle can do that for you.
While I know a big expense, like a vehicle is not always in everyone's plans, it should be something to consider as you grow your family. By finding your family's needs and using the right tools, you can find something that works with your budget too and can last for years to come!