Feeding a family on a budget without the headache!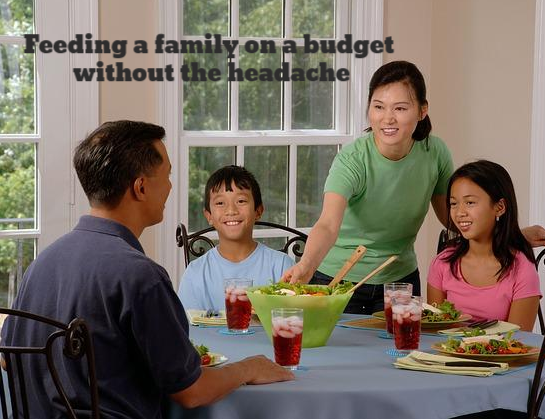 Well, tomorrow marks the one year anniversary of our adventure in starting over. It wasn't supposed to be starting completely over. It was supposed to be move where hubby could work from the office instead of the field, only he lost his job as soon as we moved here, and oh I was sick too and everything really kinda fell apart so we had to pretty much put ourselves back together again and learn a new family dynamic since hubby was in the oil patch the last several years. However, that is a run on sentence and way too hard to fit into the title! Part of this adventure this past year has been reigning in the budget. That meant taking a serious look at our grocery spending as well.
Feeding five people, one of which is a teenager now and another is my husband who eats a lot, is a challenge to budget. We are a pretty active homeschooling family so that can be a challenge too because I don't always have a lot of time for meal prep. Over the last year, I have worked on reigning in the excess spending. We now have a $400 a month grocery budget for our family of five. This budget includes all our food and also diapers, wipes, toiletries, feminine products, trash bags, paper towels, and cleaning supplies. All of that fits into our  $400 a month budget. No one goes hungry. We eat healthy meals, and I am gonna tell you all some things you can do to trim the fat on your budget too.
One of the first things we trimmed from our budget was convenience dinners…ie boxed dinners and pre-packaged snacks. I found that I could make my own macaroni and cheese for less than the boxed kind, and it was better for us. I started a list of staples that I always had on hand. That way if the day got away from me, and my meal planning went to heck, I could grab a few things and make something good quickly. Here are my staples:
beans. I always have black beans on hand
frozen veggies. You can always throw them in a casserole.
tomatoes: In the summer, I use fresh because the grocery has specials, I have them growing in my backyard, or someone just gives them to me. In the winter, I used canned tomatoes.
rice. Use what you like. We like Basmati.
Macaroni or pasta. Again, use the kind you like…whether it is plain, whole grain, gluten-free. Just keep it on hand.
Cheese. I always have three kinds of cheeses on hand. Buy it on sale. Buy it in a block, or buy it in a bag. It comes in handy.
A variety of fruits and veggies. You can refer back to frozen if you wish, or when you are at the supermarket, get what is on sale. I keep squash, zucchini, peppers, baby carrots, apples, avocados, and bananas on hand all the time.
eggs. Get some to hard-boil and some for cooking.
a creative mind. You will see what I mean in a moment.
Start by making a grocery list every week. Here, our grocery ads come on Tuesdays. The prices are for that Wednesday to the next Tuesday. Check to see where you can find the most deals, but in the end realize you will only be hitting up one or two grocery stores in a week. It really is not practical to chase every deal unless all those stores are right next to each other. To be honest, I do not hit most of them up anymore, unless it is really good. I found a local chain that has THE best prices on produce and great prices on meat. I also go to Aldi. I usually go to Aldi first and then the other place to fill in the gaps. Since I have gotten to know the local chain, I know the prices on most of the produce and meats, and there is not much fluctuation. At Aldi, some meats and produce change weekly. There are times that Aldi has the better deal on everything that week, and so I never make it to the local chain supermarket.
I mentioned Aldi a lot there in the last paragraph. No, I am not advertising for them. However, they are making leaps and bounds where I live to be a great place to shop. When I was a kid, my mom used to shop there, but it was never a place where you could get everything. NOW…I get my diapers, wipes, meats, and staples there. They have a great gluten-free section at my Aldi. I cannot have meats with nitrates, and they have sausage and lunchmeat without them. AND, it is cheaper than most other places. We eat yogurt, fruit, veggies,nuts, cheese, and homemade snacks. It is easy to obtain them there for a lot less. So, with that in mind, you might want to check out your local Aldi. With that being said…
Make a grocery list, and stick to your list. Whether you go to Aldi, Walmart, Target, Giant, Costco, or any other place, you will blow your budget if you do not stick to your list. Do not get into the mindset of overbuying because you may end up with a pantry of unused food. Do not get into the mindset of, "Well this is on sale…I just got to get it!" You will overspend. If you are going somewhere that sells things other than food, put the other merchandise you need on your list. If it is not on the list, don't buy it.
I plan about five to six of my dinners a week. For breakfasts and lunches, we have cereal, fruit, veggies, waffles, bread, peanut butter and jelly, and leftovers to choose from for those meals. I usually keep tortilla chips and popcorn to make for when we have the munchies. We cook our popcorn in a pot or use a popcorn maker. The tortilla chips are more of a staple at this point because I use them as a snack, for taco salad, as a garnish, with my southwestern rice dish. It is all about being creative. While I plan my meals, sometimes, I have days where I am just too tired or maybe I forgot to take the meat out of the freezer. That is when the staples really come in handy. I might grab some beans, avocado, cheese, tomatoes, and rice…throw it together…and there is dinner in a half an hour or less! The kids are happy. I am happy. We are full, and we did not need to call out for pizza.
Planning your meals and reigning in the budget does not happen overnight. You need to tweak it a bit before you find what works for you and your family. I will say that we eat better, and I am actually enjoying cooking a whole lot more. I hope you found these tips helpful. Remember sharing is caring, and I would also love to hear from you in the comments below.