When Mama Needs to Re-Fuel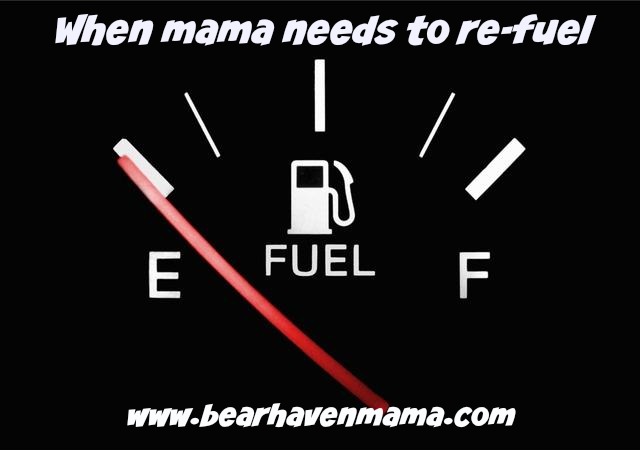 Right now, I feel I am running on fumes. I have things to do. I have things I WANT to do, and I feel I am sitting in a parked car that has run out of gas.
This year, I have really tried to get my shit together. I write things on my calendar. I then put the same things in my smartphone calendar. I have a schedule for the kids for homeschool. I have a sign in/sign out sheet for them for their independent work. I have a set time when I would like to work because I run two blogs, and I have so much I want to say and do with them both. However, life keeps getting in the way.
*Misfit Mama Bear Haven is reader supported. This means that when you purchase through affiliate links on this site, I may receive a small commission, at no cost to you. Misfit Mama Bear Haven is a participant in the Amazon Services LLC Associates Program, an affiliate advertising program designed to provide a means for sites to earn advertising fees by advertising and linking to amazon.com.*
The kids seem to bring every single germ home with them. I haven't had the kids this sick since pre-school. In fact, I thought this was one of the perks to homeschool. However, we have had EVERYTHING come through this house. I kept getting sinus/respiratory illnesses all fall. I have been doing better with that since I started taking all my allergy meds again. However, I have also been having TBI issues lately too, and it is really stressing me out. TBI stands for Traumatic Brain Injury for those who are not familiar with the term.
For me, right now, I have a couple good days and then a couple bad ones. I am getting new doctors in order, which is stressful in itself because I want to make sure I am the right ones. I had a bad experience with a neurologist after my relapse, and I want to find someone who can help and not just throw meds at me.
My family is still trying to re-adjust to my husband going back to being an oilfield geologist again. He is home more with this company, but when he is, there is always so much to do.
I find myself saying no more these days, which I hate to do. However, when we are running on fumes, we really should be taking better care of ourselves instead of adding more to our plates. I hate being reminded of that. I just feel so overwhelmed some days, and I don't know how to re-fuel right now.
For the moment, a lot of the things I really want to do are taking a backseat so I can focus on the kids, my health, and the adjustments to our family dynamic. I keep trying to remind myself that it is only temporary. However, with the issues I have had since my TBI relapse a year and a half ago, I feel sick of telling myself that. I am trying to focus on healthy diet and sleeping more. I am hoping it will help me get more energy and have more good days.
However, some days, like today, I am really feeling the burn out. My youngest awoke early this morning with a fever and has been clingy all day. My older two have decided that chores are for chumps and have not been doing them most of the week, and well at some point tonight, Mama lost her shit. My husband called to find me bawling into the phone. It was not pretty, but it is what happened. It is what happens when we are running on empty. It is what happens when we are stressed and need a reprieve. It is real life. As a mom, you will find that you need to find ways to make time for yourself and that you will get frustrated with your kids. You will lose your shit and probably on a regular basis. Then you need to find a way to re-fuel. Better yet, it is best if you find a way to get back on track before you lose your shit. However, that does not always happen.
For me, writing is my best outlet. I actually feel better now that I have been writing this. Also, I will be taking a nice warm bath before bed tonight. I will most likely take it easy and try to clear most things from my calendar tomorrow that are not critical so that I can breathe easy once more.
None of us are perfect, and we all end up running on empty or losing our shit now and then. However, it is imperative to find ways to get back on track, to make us happy, to find balance, to move forward. Motherhood is not easy, and we are all doing the best we can. If you find yourself running on empty, having a bad day, or losing it, just know you are only human. What are ways you try to fill your tank again when you are running low?