Wubble Fulla: Slime fun without the mess!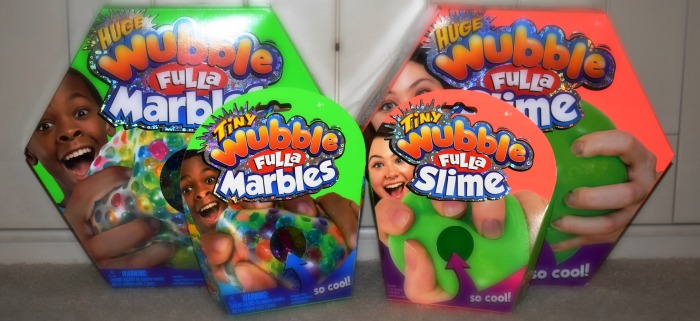 *I received this product and compensation for this review. All opinions are my own. To see my disclosure policy, please click here.

The kids are huge fans of the Wubble Balls, so when we got the opportunity to share the new Huge Wubble Fulla and Tiny Wubble Fulla with all of you, we were totally excited!
 
The Wubble Fulla Balls come in two different varieties: one filled with slime and one filled with marbles. They are both super squishy, and they come ready to play out of the box. They also come in 3 different sizes: Huge (5″), Big (4″) or Tiny (just under 2½")! We got to try the Huge and the Tiny.


The Wubble Fulla Slime Balls are full of slime and can be squished and twisted. The slime is contained in the balls, so you don't have to worry that it will make a mess on your carpets or in your house. If you have children that are obsessed with slime videos on You Tube, then this is a nice compromise for when your children want to play with slime and you don't want to have to clean up after them!


The other variety of the Wubble Fulla Ball is the Wubble Fulla Marbles Ball. It is pretty squishy, but it is full of little marbles, which give it a totally different feel when you hold it in your hands. The girls loved squishing the balls, and my littlest one loved feeling the texture of the marbles while she played with them.
My 14 year old son, who did not wish to be photographed this time around, absolutely loves these as stress balls. He said they were quite relaxing, and he wants to keep one at his desk to help him when he is stressed out. I also found it therapeutic, and I can totally see why he would want to use them as stress relievers.


Like I said earlier, there is no prepping for these Wubble Balls, and they are easily cleaned with a tiny bit of hand soap and cold water. They can go back in the plastic container in the packaging until next use. With Easter coming up, these would make great additions to any Easter basket! They retail for $14.99 (Huge), $9.99 (Big) and $7.99 (Tiny). A combo set is currently available at www.WubbleBall.com , which includes two Huge Wubble Fullas (one of each) for $19.99, plus $8.99 shipping and handling. The balls are coming soon to Target and Walgreens.
If you want to see more, be sure to check out Miss Crankles testing out hers on You Tube!