How to Make Your Barnyard Party Pop with these Animals Pretzel Rods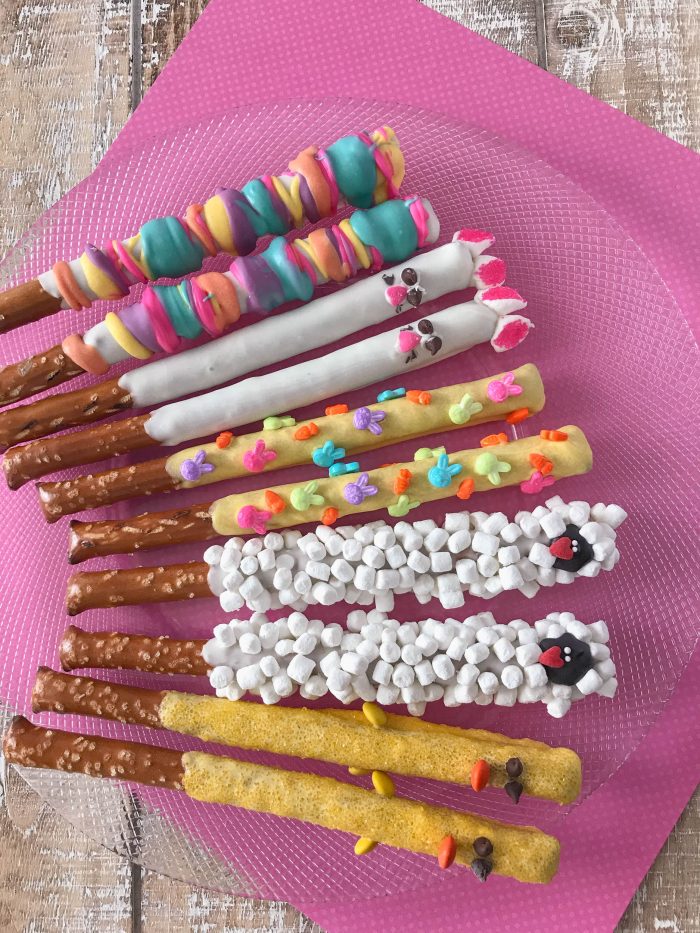 Coming up with fun kids party themes is a hobby of mine! I always loved the kids Farm Party theme or Barnyard Party theme. Food is always key to a party, and these Animal Pretzel Rods are sure to be a hit  as a kids farm party food or treat!
*Misfit Mama Bear Haven is reader supported. This means that when you purchase through affiliate links on this site, I may receive a small commission, at no cost to you. Misfit Mama Bear Haven is a participant in the Amazon Services LLC Associates Program, an affiliate advertising program designed to provide a means for sites to earn advertising fees by advertising and linking to amazon.com.*
(This post may contain affiliate links or Amazon links, which means I may earn a small commission if you click the link then purchase a product or service from the third party website. Purchasing a product or service from a link does not increase your purchase price, but it is a great way to say 'thanks' if you enjoy my content and find my suggestions helpful.)
A few ideas for a Barnyard Party
There is so much you can do in ways of games, like Duck, Duck Goose if you want to keep it really simple or even Hot Potato because, hey, potatoes grow on farms! You can do face painting to make each child look like their favorite animal. If you are crafty, you could even do balloon animals!
No matter what you do for activities, you still need some fun food to make this kids farm party theme pop! That is where these animal pretzel rods come into play! You can make a few types of animals. Also, if you want some more animal shaped food fun, be sure to check out my Bunny Oreos!

Ingredients:
For this, you will need some basic ingredients and then specific ones for each animal to make this kids farm party food!
Basic ingredients:
Pretzel rods
White candy melts, white chocolate morsels, or vanilla almond bark
For the bunny:
Mini marshmallows (bunny ears)
Pink sprinkling sugar (bunny ears)
Mini chocolate chip morsels (bunny eyes)
Heart sprinkles (bunny nose)
Black candy melts (bunny whiskers)
For the sheep:
Black candy melts (sheep face)
Marshmallow Mini Bits (sheep wool)
For the chick:
Yellow candy melts
Yellow sprinkling sugar (chick feathers)
Mini chocolate chip morsels (chick eyes)
White nonpareil sprinkles (sheep eyes)
Orange and yellow mini M&M candies (chick wings and beak)
Other ingredients:
Turquoise candy melts
Orange candy melts
Bright pink candy melts
Lavender candy melts
Bunny mix sprinkles 
Basic instructions:
Melt the candy coating according to package directions giving special care not to overheat the candy. If the candy coating is overheated, it will be too thick. You can add 2 teaspoons of vegetable shortening or coconut oil to help thin the candy but do not add any other type of liquid as the candy will seize and harden.

Pour candy coating over two-thirds of the pretzel rod and shake gently to remove excess. If applying sprinkles, do so immediately rotating the pretzel rods to coat all sides. Larger sprinkles work best if placed individually.

Place pretzel rod on waxed paper or cooling rack. (Cook's notes: Waxed paper makes for easier release.)

If drizzling with additional colored candy melts, allow initial candy coating to set completely. Then, use a spoon or fork to drizzle candy coating over the pretzel rods. Before the pretzel sets, gently pick it up and move to clean wax paper.

Let pretzel rods dry completely before packaging or serving.
Store in an airtight container at room temperature. Placing in the refrigerator may cause the pretzel to soften.
I hope you enjoy this fun little treat. If you make this kids farm party food, please be sure to tag @bearhavenmama on social media to share your photos with me!