How to Make Super Cute Bunny Oreos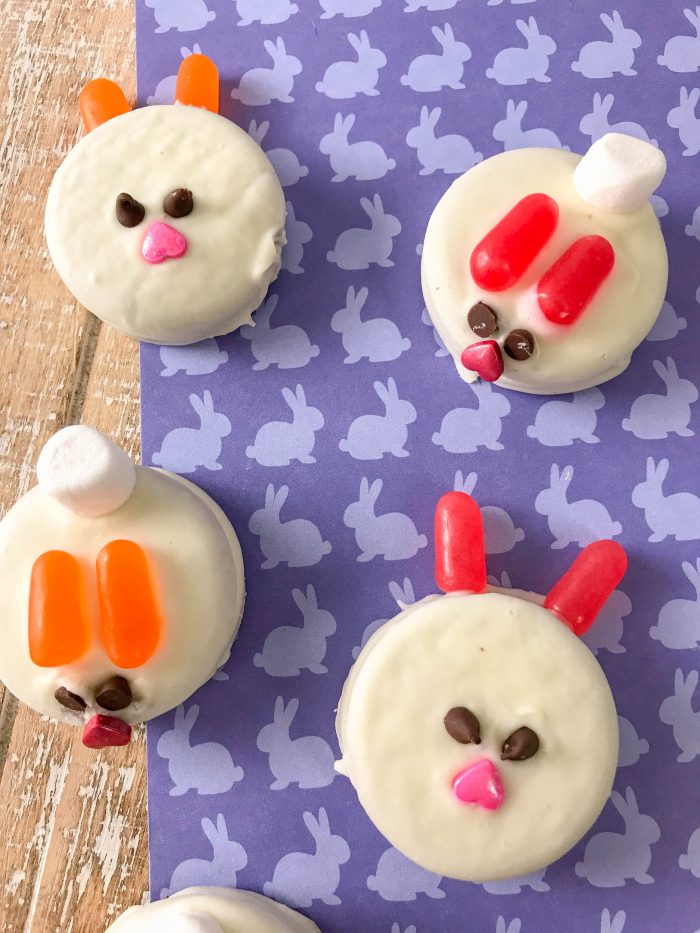 Since Spring finally decided to make its appearance in Ohio, I am super excited to celebrate in making all the spring things! If you are as excited as I am, here is a tasty treat your kids will love using Oreos and white chocolate to make Bunny Oreos! This bunny Oreo recipe is great for family gatherings and even a barnyard birthday party food idea!
*This post contains affiliate links, which means I may receive a small commission, at no cost to you, if you make a purchase through a link! Misfit Mama Bear Haven is a participant in the Amazon Services LLC Associates Program, an affiliate advertising program designed to provide a means for sites to earn advertising fees by advertising and linking to amazon.com.*
(This post may contain affiliate links or Amazon links, which means I may earn a small commission if you click the link then purchase a product or service from the third party website. Purchasing a product or service from a link does not increase your purchase price, but it is a great way to say 'thanks' if you enjoy my content and find my suggestions helpful.)
A little about my obsession with bunnies
If you are here for just the Bunny Oreos recipe, you can just scroll down for the recipe, but I wanted to share a bit about my bunny fascination. While I advocate that people don't get bunnies as Easter gifts and can tell you that they don't make the greatest of pets for littles, my obsession with rabbits started at a very early age. I raised rabbits for show when I was in 4-H and had up to 20 in the rabbit barn once. Rabbits have lots of personality. They are also creatures of habit and sometimes protective of their owner.
Our last rabbit once thought that my son was playing too rough with me, got on her hind legs and swiped him with her front paws. She also watched my belly grow when I was pregnant with my oldest daughter, and I kind of think she thought that the baby was hers. If I so much raised my voice at my older daughter, Molly would have a fit. She didn't care if I did it to my son though. That rabbit was very much a part of our family and was spoiled rotten.
Sadly, my allergies have gotten worse over the years, and after she passed away, I have held off from getting another bunny. However, I still would love to have another someday if I can get my allergies under control. Until then, I love to cuddle my kids' friends' rabbits and follow it by lots of allergy meds! Now for the recipe!
Bunny Oreos Recipe
Ingredients:
Oreo Cookies
White candy melts or vanilla almond bark
Mini chocolate chip morsels (2 for each bunny cookie)
Mike and Ike candy (2 for each bunny cookie)
Heart sprinkles (1 sprinkle for each bunny cookie)
Miniature marshmallows (1 for each bunny cookie)
Instructions:
Melt the white candy coating according to package directions giving special care not to overheat the candy. If the candy coating is overheated, it will be too thick. You can add 1 teaspoon of vegetable shortening or coconut oil to help thin the candy but do not add any other type of liquid as the candy will seize and harden.
Coat each cookie in melted candy. Place the cookie on waxed paper. Immediately add decorations.
Allow candy coating to harden before serving. Store in an airtight container at room temperature. Placing in the refrigerator may cause the cookie to soften.
Hope you all enjoy this fun Bunny Oreos spring treat! If you make them, be sure to let me know how they turn out! Tag me! I want to see them! As always, don't forget to follow me on social media for homeschool, parenting, and family fun!