Beyond the Stick Figure Complete Drawing Course Homeschool Art Curriculum Review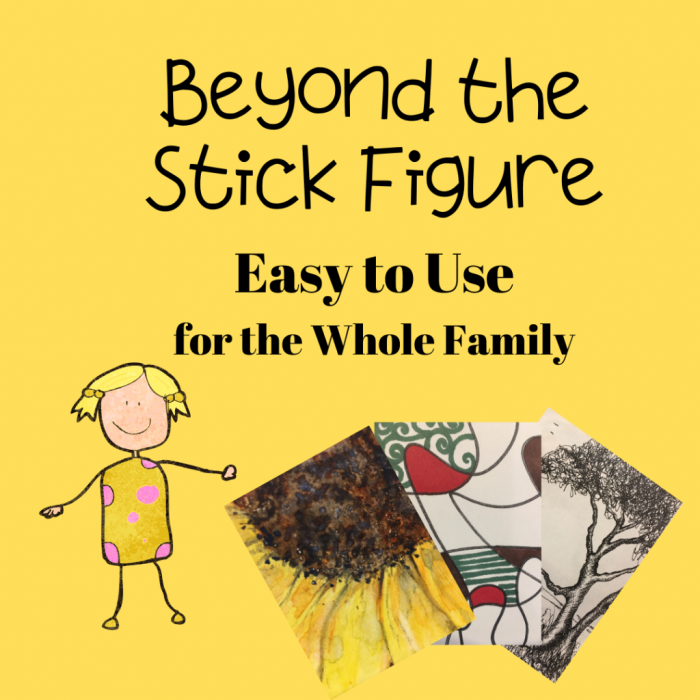 Disclaimer: I received a FREE copy of this Beyond the Stick Figure Complete Drawing Course Homeschool Art Curriculum through the HOMESCHOOL REVIEW CREW in exchange for my honest review. I was not required to write a positive review nor was I compensated in any other way. For more information, please visit my disclosures page.
*Misfit Mama Bear Haven is reader supported. This means that when you purchase through affiliate links on this site, I may receive a small commission, at no cost to you. Misfit Mama Bear Haven is a participant in the Amazon Services LLC Associates Program, an affiliate advertising program designed to provide a means for sites to earn advertising fees by advertising and linking to amazon.com.*
I am always on the lookout for great homeschool art curriculum, such as the Beyond the Stick Figure Complete Drawing Course PLUS 3 Bonus courses from Beyond the Stick Figure Art School. While I love art,  I am not confident in my ability to teach drawing to my children. The best thing about this course is that it can be adapted for any age! So let me tell you all about it!
What is the Beyond Stick Figure Complete Drawing Course
The Beyond Stick Figure Complete Drawing Course homeschool art curriculum contains 55 drawing lessons, 15 pen and ink lessons, 52 lessons in watercolor, and 24 lessons in Acrylic. Plus, you also get 30 lessons in 3D Design. The lessons contain video tutorials, as well as worksheets to help you gain skills. These classes are great for beginners and also for those that want to hone in their skills too!
Sally, the creator of this program, is a homeschool mom and trained artist. She attended Loughborough College of Art and Design in England where she obtained her degree in art. While homeschooling, she realized that art is not just for the gifted. She wanted to share her passion for art with young and old alike.
Why I love This Homeschool Art Curriculum
For this review, I had my older son test drive this course. My older daughter usually does all the art class reviews. However, knowing this class could help novice artists, I thought it might help him gain confidence in art.
While Bubby did not wish to share his art with all of you, he did actually learn something. The lessons were easy to follow, and he is enjoying learning how to draw. I think as he continues, he will be more confident to share his art with others.
While helping him with the coursework, I realize that this course can really be adapted for just about anyone. I plan on having my five year old start soon.
What is nice is that the lessons for this homeschool art curriculum are short, so your child won't get bored. The worksheets accompanying the lessons are great for extra practice. Because the lessons are short, they work for small children and older children alike. While it may take some extra practice with Crankles, I am confident she will be able to do these lessons too.
Everything is broken down so that you learn the whole process for your project and can use each element to create the finished project. I love this approach because it doesn't overwhelm the student. This has been helpful with my son because he gets easily overwhelmed by new things.
Final Thoughts
While I don't feel confident to teach art myself, the Beyond the Stick Figure Complete Drawing Course PLUS 3 Bonus courses from Beyond the Stick Figure Art School homeschool art curriculum provides a comprehensive program so I don't have to teach it. The course layout is great and can be adapted for all ages. Honestly, I may end up taking it myself when I do it with my youngest because I would love to brush up on my art skills too!
You can find out more about this program by following them on Social Media:
Facebook: https://www.facebook.com/beyondthestickfigure/
Instagram: https://www.instagram.com/britladyinamerica/
Pinterest: https://www.pinterest.co.uk/beyondthestickfigureart/
YouTube: https://www.youtube.com/channel/UCROy5BkqT_cZvQu1dTPRYzw
You can also read more reviews by the Homeschool Review Crew by clicking the link below! As always, I welcome your questions and thoughts! If you found this review helpful, be sure to check out some of my other reviews! Don't forget to follow me on social media and subscribe to the blog at the bottom or side of the page (depending on whether you are using a desktop or mobile device)!