Puppy Chow Holiday Goodness!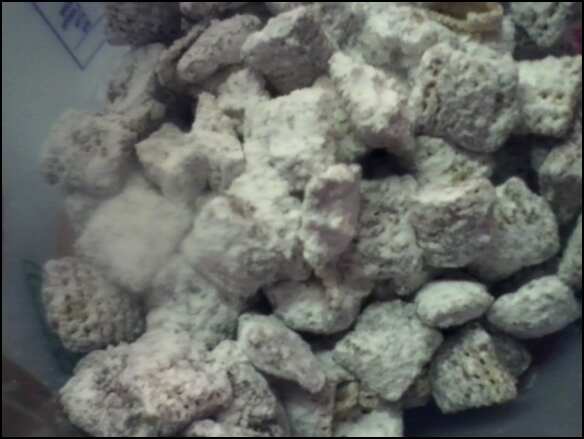 Today, the kids and I did some home economics projects. Okay, we made goodies! We were hungry! I thought it would be fun to teach the kids how to make Puppy Chow since it was one of my favorites from when I was a kid!
*Misfit Mama Bear Haven is reader supported. This means that when you purchase through affiliate links on this site, I may receive a small commission, at no cost to you. Misfit Mama Bear Haven is a participant in the Amazon Services LLC Associates Program, an affiliate advertising program designed to provide a means for sites to earn advertising fees by advertising and linking to amazon.com.*
Just look at that Puppy Chow Goodness!
YUM!

And here is what we did!
Ingredients:
1/2 c peanut butter
1/4 c butter
2 c chocolate chips
1 t Vanilla
1 Box of Chex (13 servings)
3 c powdered sugar
Combine the peanut butter, butter, chocolate chips, and vanilla in a microwave safe bowl and microwave for one minute. Stir thoroughly, microwave for one more minute. Stir again. Place Chex  in a large bowl. Pour mixture over the Chex and mix thoroughly. Using a large Ziplock bag or re-sealable container, add powdered sugar and then the covered Chex mixture. Shake it all up until coated. Refrigerate for one hour and serve!
Pretty simple, right? I hope you enjoy making it with your family as much as we did! Don't forget to follow me on social media for more fun!