Stopmotion Explosion: Stop Motion Animation Kit Review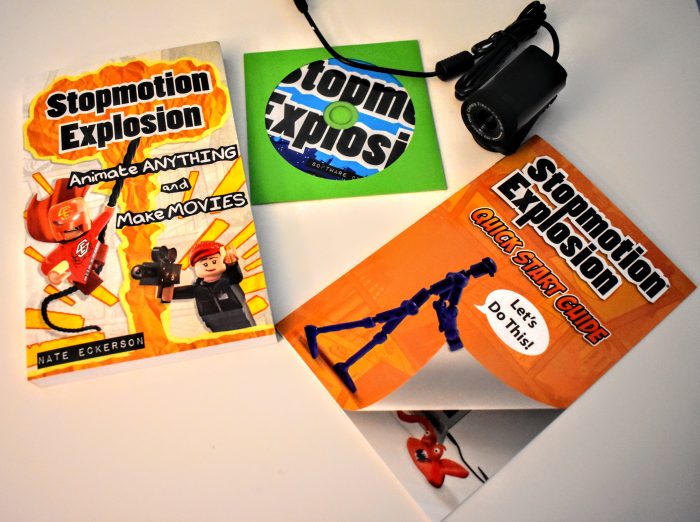 My kids find animation fascinating, particularly stop motion, like you see in the Lego Movie. When we got the chance to receive the Stop Motion Animation Kit from Stopmotion Explosion for our honest review, my kids were absolutely thrilled!
What's included in the kit
The Stop Motion Animation kit includes everything you need to start making fun animations on your own! Each kit comes with the following:
1080p HD video camera with internal microphone. Full control of exposure, color, and white balance, 360º rotating head, manual focus, Full HD 1920 x 1080 image resolution, flex base, internal microphone and many other features.
Camera cord length is 4-1/2 feet. Compatible with Skype, and other video chatting applications. USB 2.0 input.
Second edition 290+ page Stopmotion Explosion book. (This book will help you learn how to create videos, do screenwriting, and give examples of project ideas)
Animation software. No CD-ROM drive required, install via CD or download from our site.
This kit is Windows XP, Vista, 7, 8, 10 & OS X 7.5+ compatible. If you want to use this kit with a mobile device, you also have access to the Stopmotion Explosion Animatior – iOS app (if you are an iOS user).
What We Love about this Product
My older kids used to take stop motion animation classes at Snapology when we lived in Pennsylvania, and it is something we miss. When my son helped me open this kit, he immediately got excited over the camera because it reminded him of the camera used in those classes. The book has been a great asset because it explains everything from video editing and sound, to animating and screenwriting. Even though the kids have some experience with stop motion video making, the book can take them to the next level!
Since my son loves to fix old computers, he appreciated that the software is compatible with his older computers that still use XP and Vista. He has plans for testing the software on one of his older computers in the future.
I love that it gets my kids to think and use their imaginations. They are not only using technical concepts, but they are using literary concepts as well. They can write complex story lines and create amazing videos!
A Demonstration
While my son is currently working on a bigger project, he had fun setting up the software on his computer. Here is one of the test videos he made!
How to Connect with Stopmotion Explosion
You can purchase the Stop Motion Animation Kit from Stopmotion Explosion's website. You can also connect with them on social media:
Facebook: https://www.facebook.com/pages/category/App-Page/Stopmotion-Explosion-104732269687187/
Twitter: https://twitter.com/StopmoExplosion
YouTube: https://www.youtube.com/channel/UC1ich35AhOSQcXwrSHqrJdg
My family had a great time reviewing this product, and I hope you found this review helpful. You can also check out other reviews on the Stop Motion Animation Kit from other Homeschool Review Crew Moms by clicking the link below! What kinds of videos would your kids make with this kit?