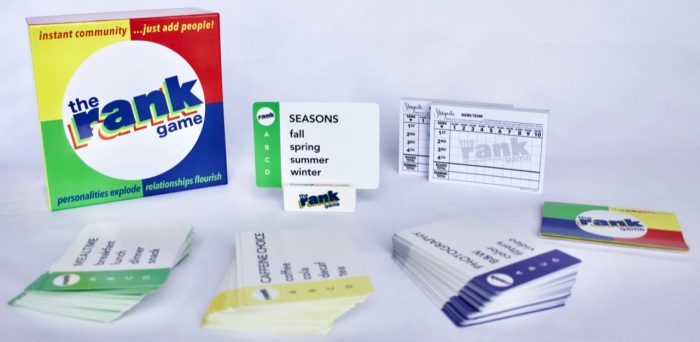 *Misfit Mama Bear Haven is reader supported. This means that when you purchase through affiliate links on this site, I may receive a small commission, at no cost to you. Misfit Mama Bear Haven is a participant in the Amazon Services LLC Associates Program, an affiliate advertising program designed to provide a means for sites to earn advertising fees by advertising and linking to amazon.com.*
My family and I love to play games for family fun night. Recently, I got the opportunity to review THE RANK GAME by Storyastic. It made a great addition to our game collection! Here is a bit about the game and why it will be great for your next family fun night!
What is THE RANK GAME?
Dana Brown, a former Walt Disney Imagineer, and Chip Brown, a former Disney Studios producer and Christian publisher, designed THE RANK GAME. They wanted to engage the backgrounds, interests, personalities and opinions of every player. The design of this game makes it easy to be played by groups of all sizes. Play it with friends, for a family game night, or as an ice breaker at a social gathering.
How does THE RANK GAME WORK?
THE RANK GAME uses our social behaviors and ranks the things or experiences in our lives. For example:
Rank the four seasons:     A) fall  B) spring  C) summer D) winter
Your answers will be different than mine, and that is where the fun begins. Using the score card you have, you write your rankings. Then your opponents have to guess them.
This game can be played competitively. It takes about 30 minutes to play competitively. However, you can play this game just for fun.
The base game includes 150 cards, but there are 11 expansion packs available for the game. The 11 expansion packs cover 11 different categories and include 50 cards each. None of the cards are repeated!
THE RANK GAME includes 4 different game modes:
Icebreaker: (2 or more people). In this version, you draw a card and everyone shares their RANK. No scoring and everyone wins!
Spotlight: (3 or more people). Take turns being the Ranker. Everyone guesses the Ranker's order. Those who guess right, win the game!
Teams of 2 (4 or more people).  Players on each team alternate being the Ranker and the Guesser.
Two Teams (6 or more people). Each team has a Ranker and their teammates work together to guess their RANK.
Our Review of THE RANK GAME
The kids and I thought this game was a great concept. It is a great way to get to know your friends and family a little better. Bubby and Sissy thought this would be a great game to play with friends. We go to homeschool gatherings a lot, and the kids like to bring different games to play.
The game was pretty simple to understand, and it made playing very easy. We can't play this game with Crankles, as it is geared to 14 and up. However, this game provides a great way for me and my husband to connect with the big kids.
How to Purchase and also enter to win a copy of The Rank Game!
To get your copy of The Rank Game, be sure to visit the Storyastic website to purchase! You can also find out more about the game by checking them out on Instagram, Facebook, and Twitter.
You can also enter to win a copy of The Rank Game! Click here for all the details!
I hope you found this review of THE RANK GAME helpful. As always, feel free to share your thoughts in the comments below! Don't forget to follow me on social media and subscribe to the blog at the bottom or side of the page (depending on whether you are using a desktop or mobile device)!