Vroom! A Car Adventure at the Great Lakes Science Center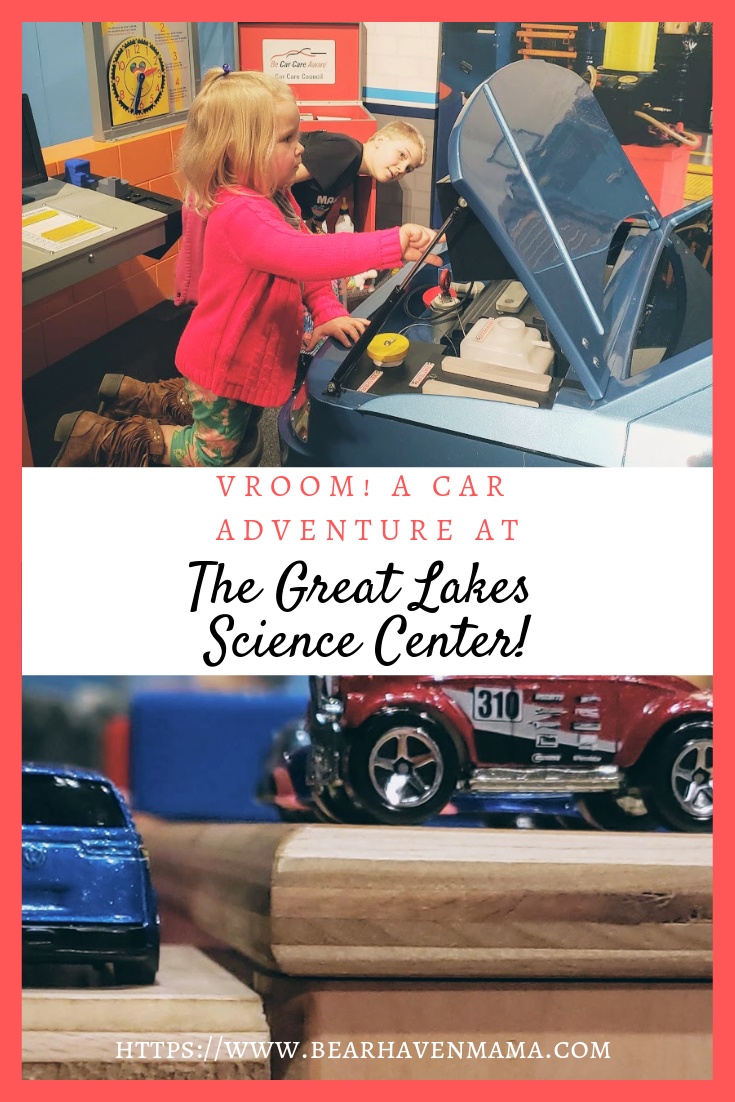 Get ready for the ride of your life as you explore all about cars at Vroom! A Car Adventure now open at the Great Lakes Science Center in Cleveland, Ohio. This hands on fun exhibit allows you to learn all about cars and how they work, and we got to see it all when it first opened as a great homeschool field trip! In exchange for my honest review, we played and learned all about the exhibit, and I can't wait to share our fun with all of you!
What is this exhibit all about?
This new exhibit from the Great Lakes Science center allows visitors to explore how a car works, while learning about the technology, science, engineering, and mathematics involved. This exhibit, developed and curated by the science center's in-house Exhibit's team, has something for every age!
You will learn how different parts of an engine works, get to experiment with force and motion in the Physics Playground, learn how to change a tire or oil in the Super Service Center, and even race a robotic arm! The exhibit is jam-packed with hands on learning, and everyone in your family will have a lot of fun!
Highlights
Here is a peek at some of the adventures we had at the exhibit!
Physics Playground:
We had a lot of fun building tracks and racing cars!
Derby Dash:
You get to build your own car and then race it down this track!
Race The Robot:
The big kids had a lot of fun trying to beat the robotic arm!
Learning Demonstrations:
Miss Crankles enjoyed learning all about wheels!
Brakes!
This was a fun hands on way to learn how car brakes work!
Tot Garage
The Tot Garage was great for little hands! Miss Crankles and Daddy enjoyed racing cars and playing in this area for little people!
Super Service Center
This was the girls' favorite part of the exhibit. You can play service center technician and cashier. You can be a mechanic. They learned about changing tires, oil, and mufflers. They learned all about checking fluids, and they had a blast doing it!
Our Thoughts
To be honest, we could have spent way longer than the few hours we were there. Both the big kids and the little one had fun exploring all the parts to this exhibit, and all three want to go back and do it again! One thing I love about the Great Lakes Science Center is that it is designed with all ages in mind. Both my 15-year old and my 4-year old enjoyed themselves immensely.
As I mentioned in my Grossology post,  Miss Crankles has sensory processing issues, which sometimes makes it hard for us to do things like this with her. She actually did really well for this event, and I talked to a few people at the Science Center to find out the best times to visit with her in tow. They said that afternoons are much quieter because the field trips are done by then, so if you have a child like mine, your child might have a better experience when there aren't as many other guests. You want to give yourself a few hours regardless as there is a lot to see and do while you are there! Also, the staff members at the Great Lakes Science Center are super helpful, and through talking to them, I also found out they do homeschool activities there too. I will be contacting them for more information about that!
This exhibit runs through September 2, and if you would like to learn more, please visit the Great Lakes Science Center Website. I hope you liked our little virtual tour of the exhibit! As always, don't forget to follow us on social media to see what adventures we go on next!