Baby Yoda Valentines Free Printable Valentine's Day Cards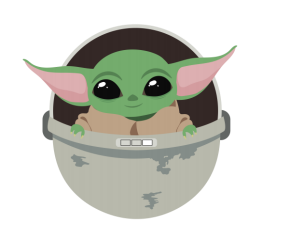 Do you or your kids have a Baby Yoda obsession? Then I got some Valentine's Day fun for you today! These printable Baby Yoda Valentines are cute and fun to share. All you need is a printer and some card stock to get started!
(This post may contain affiliate links or Amazon links, which means I may earn a small commission if you click the link then purchase a product or service from the third party website. Purchasing a product or service from a link does not increase your purchase price, but it is a great way to say 'thanks' if you enjoy my content and find my suggestions helpful.)
About these cute Printable Baby Yoda Valentines Day Cards
Right now, my youngest is obsessed with all things Star Wars. She anxiously awaits all the Baby Yoda toys currently to add to her growing collection of Star Wars dolls. Yoda has always been a favorite of hers. She got her first Yoda doll before she turned one. Naturally, the introduction of the Baby Yoda in the Mandalorean was going to be an instant obsession with her.
She also loves Valentine's Day. Our homeschool co-op always has a party, and the kids go all out on their Valentine's Day boxes. It only seemed fitting to add some Baby Yoda to the Valentine fun because seriously…cuteness overload!!!
What You Need for this Activity
For this Printable Baby Yoda Valentines Cards activity, you will need:
card stock
printer
scissors
A nice pen or something colorful to sign your name
There are 2 sheets with this printable, and each sheet has 4 different card variations. Card Stock works best with this printable. I always suggest having a nice pen or writing utensil because it makes it extra special when working on Valentines.
You can download the free printable Baby Yoda Valentines Cards template by clicking the link below:
What I Love about Making Valentines with Kids
Making Valentines is a great way to practice handwriting skills. My youngest can print her name, and this is a great way for her to practice writing it and making sure she feels comfortable while doing it. It is just another way of making our homeschool day a bit more fun. Plus, she loves giving things to her friends!
Final Thoughts
I hope you enjoy making these Printable Baby Yoda Valentines with your kids (or for yourself). Make sure you to share this with someone you know that loves Baby Yoda too! Happy Valentines' Day!