Baby Yoda Oreos, Perfect for May the Fourth or a Star Wars Party!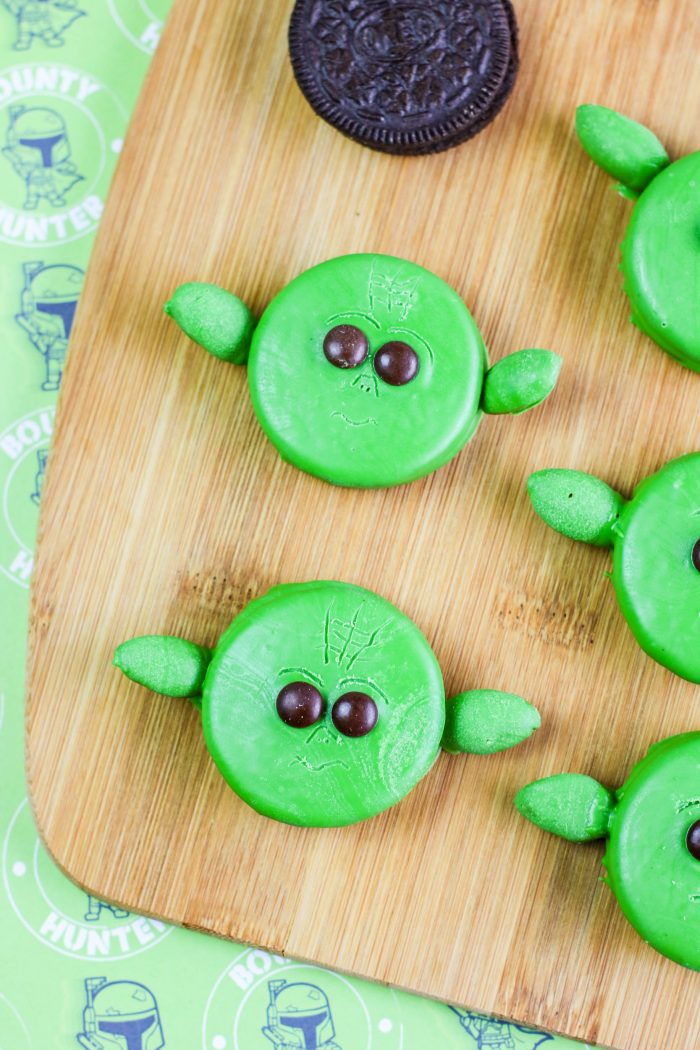 Next to Halloween, Star Wars Day is my favorite holiday of the year! Each year, I host Star Wars parties for May the 4th with the kids' friends, and the kids look forward to see what new creation I present them each year! This year, we can't host a Star Wars party, but I do have these cute Baby Yoda Oreos that are sure to be a hit with any Star Wars fan!
*Misfit Mama Bear Haven is reader supported. This means that when you purchase through affiliate links on this site, I may receive a small commission, at no cost to you. Misfit Mama Bear Haven is a participant in the Amazon Services LLC Associates Program, an affiliate advertising program designed to provide a means for sites to earn advertising fees by advertising and linking to amazon.com.*
Why Silly Holidays Like May the Fourth are important…to kids and kids at heart!
I know a lot of people think it's silly to celebrate made up holidays like May the Fourth, but honestly for us, it has been something that gives the kids something to look forward to.
I started celebrating May the Fourth after my first miscarriage. For the first one, I was newly pregnant and ended up losing that pregnancy as well. My family and I definitely lacked joy in our lives. We are all big Star Wars fans, so on May the Fourth that year, I cooked up an odd breakfast, made a Yoda face out of grapes, and bought some green smoothie that I swore came from Dagobah. The kids thought it was awesome!
Needless to say, that led to us celebrating other obscure holidays. Fish Fingers and Custard Day for Doctor Who is now also one of them! Side note, my teenage son swears that it is an awesome combination!
Doing little things that bring joy makes all the difference, especially when life gets scary or difficult. Adding a bit of pizzazz to what would be an ordinary day makes for some really awesome memories!
…Which Brings me to the star of this year's Star Wars Day!
Baby Yoda Oreos! Everyone loves Baby Yoda. He is cute, memeable, and the whole reason my 5-year old started watching The Mandalorean!
If you have a Baby Yoda fan in the house, they are going to totally love you after making these! So…let's get started!
Baby Yoda Oreos
Ingredients
You Will Also Need
Instructions
Prepare a baking sheet or cutting board with waxed paper.

Melt the candy coating according to package directions giving special care not to overheat the candy. If the candy coating is overheated, it will be too thick. You can add 1 teaspoon of coconut oil or vegetable shortening to help thin the candy but do not add any other type of liquid as the candy will seize and harden.

One at a time, use a candy dipper to cover whole almonds in the melted candy and tap to allow the excess to return to the bowl. Transfer the almonds to waxed paper and allow to dry completely.

Next, dip each cookie into the candy melts to coat completely. Shake to remove excess candy and then place on waxed paper.

Immediately add the candy eyes and almond (ears).

Allow candy coating to harden completely. Then, using a toothpick, scratch a nose into the candy between the eyes.
Store in an airtight container at room temperature. Placing in the refrigerator may cause the cookie to soften.
Final Thoughts
As always, don't forget to pin this recipe for later and share it with someone you know who is a big Baby Yoda or Star Wars fan! These also work great for hosting an epic Star Wars Party too!